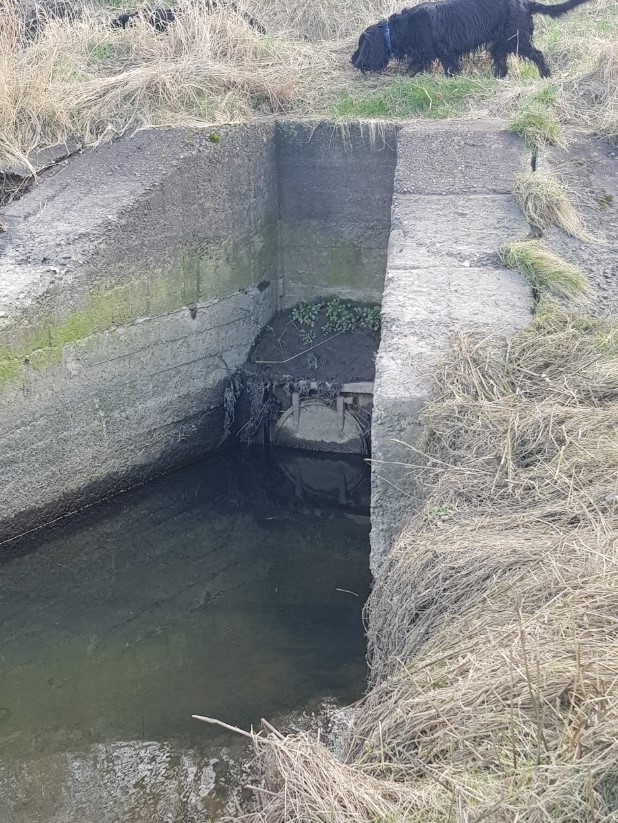 Drainage and water management (location 20)
At the time of Culloden much of the parish was boggy marshland. In the late 1700s and the first half of the 1800s landowners embarked on ambitious drainage schemes including on the Moniack Burn and Conan Water. Some are quite complex, going underground in places, or even crossing burns. In addition, land was reclaimed from the sea. Sea flaps, pictured right, were part of the sea defences. Many writers in the 19th century remarked on the profound changes.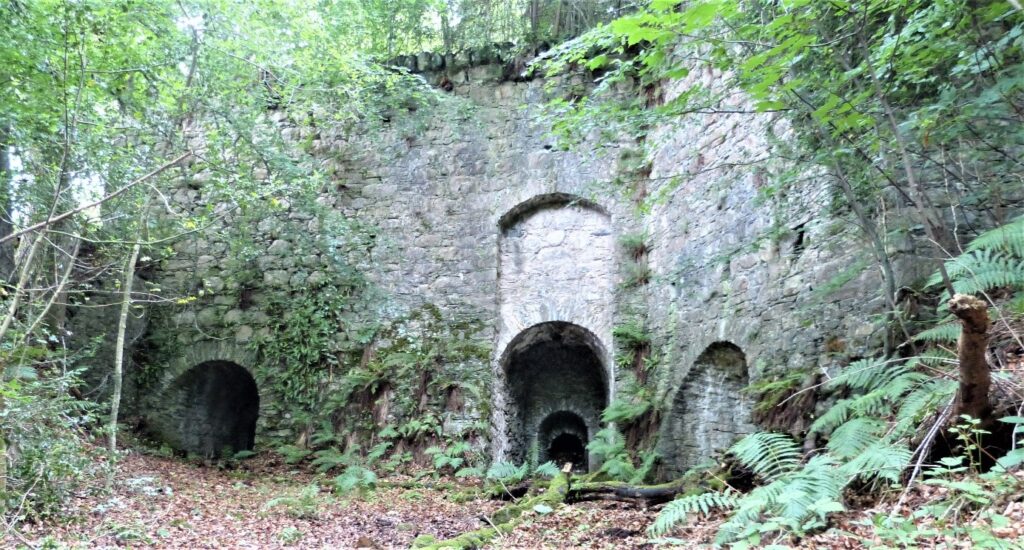 Limekilns (location 21)
Early examples of limekilns can be found around the Aird. The Crown annexed the Lovat lands after Culloden and looked for ways to increase revenues. They established three limekilns at Blarnahenachrie, South Clunes and Kirkton. All were unsuccessful and short-lived. A later example on the Reelig Estate was built on a larger scale. In the 1800s three coal-fired kilns were in operation. Locally quarried rock was transported along a horse-drawn railway. This site would have provided lime commercially for local building and farming purposes.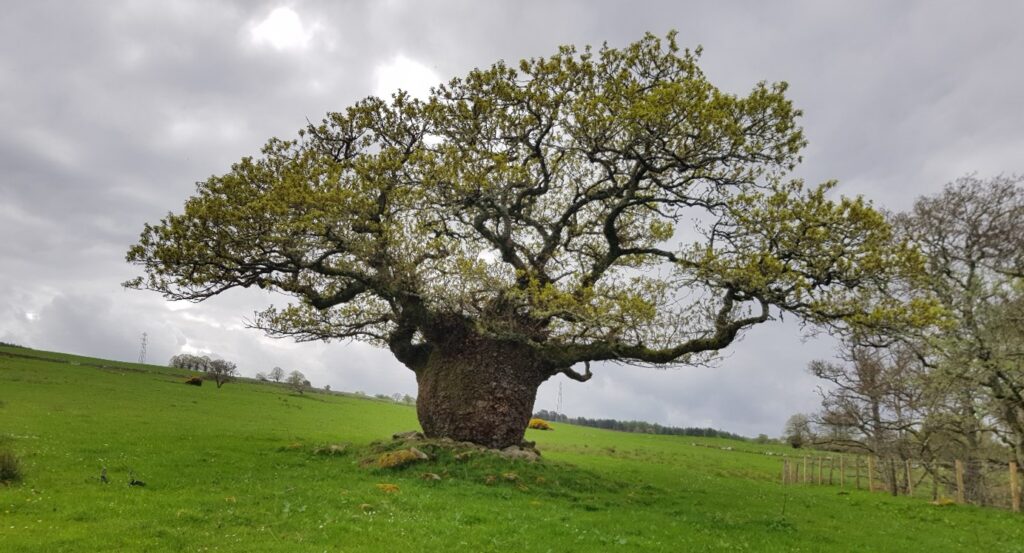 Special trees in Kirkhill Parish (location 22)
Many impressive trees can be found in Kirkhill Parish. An old oak (pictured above) commemorating Duncan Forbes of Culloden and Bunchrew, Lord President in the mid 1700s, stands today in a field above Bunchrew. Reelig Glen has magnificent trees, including some of the tallest conifers in Britain, planted by the Frasers of Reelig over 200 years ago. Achnagairn Estate has spectacular Californian Redwoods and some notable lime trees. Many trees were planted by the Canadian Forestry Corps in WWII. Was the patch of larch on Tor Clunes in the shape of a maple leaf planted by these foresters?
Reelig Glen (location 23)
Edward Satchwell Fraser (1751-1835) 14th Laird of Reelig and his son James had a vision to transform the tree-lined gorge into the magnificent sculptured landscape it is today. Both had travelled extensively and introduced exotic plants and trees. Footpaths were created, along with stone bridges and follies. Some of these structures have survived under the shade of the 200 year old conifers. One was recently felled to provide a mast for the renovation of Capt Scott's Antarctic ship Discovery. There are still traces of a lade which carried water across a wooden aqueduct to Reelig Mill dam.
Image: Reelig Glen grotto, date unknown, courtesy Charlie Gair Photographic Collection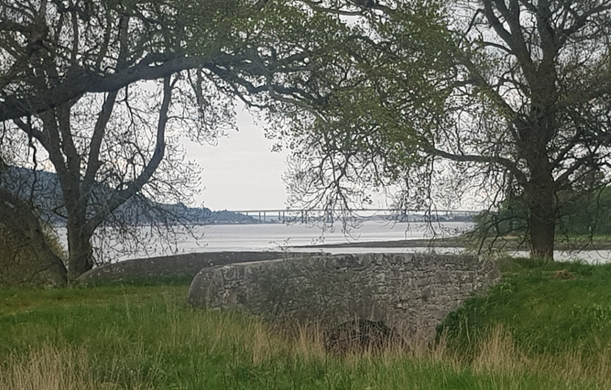 Routeways (location 24)
The area has long been crossed by routeways on land and sea. Ships landed at Wester Lovat and Phopachy from at least the 1800s, allowing imports of lime and coals and exports of timber and grain. Old maps show a number of early roads. Drove roads are also recorded in parts of the parish. Telford improved the roads in the early 1800s, building bridges to cross areas previously crossed by fords, including the Beauly river. The railway came in the 1860s, with stations at Clunes (Kirkhill), Lentran and Bunchrew, all closed a century later.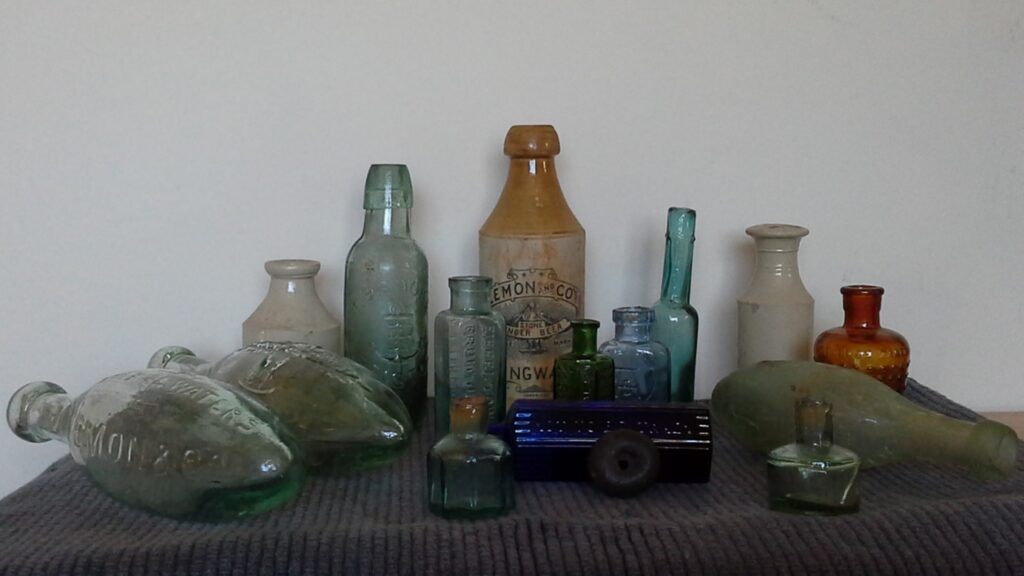 Treasure or rubbish! (location 25)
For over 40 years dozens of bottles, stoneware pots, pottery sherds and other sundry domestic items dating from the early 19th to mid-20th century have been found in a Kirkhill garden. The collection so far includes embossed poison bottles, early sauce bottles, ink, medicinal, disinfectant, alcohol bottles and fruit juices and cordials. Some of the stoneware is for local produce, for example Lemon and Co. Dingwall. The house was possibly part of the Achnagairn estate so this may have been an estate midden or perhaps just local cast offs.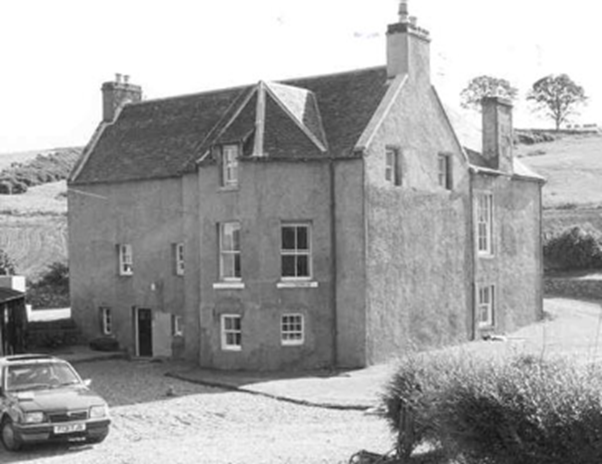 Englishton House asylum (location 26)
The house at Englishton dates from the early 18th century, with General Wade reputedly an early tenant. From 1859, Mr Hyslop opened the house as a private lunatic asylum, housing patients in the house and converted cottages and barns. His asylum was progressive, using non-restraint methods. The patients benefited from outdoor activities and were complimented on their appearance and behaviour in the press. After the opening of Craig Dunain in 1864 the asylum declined and closed two years later.
Image: ©Highland Council Historic Environment Record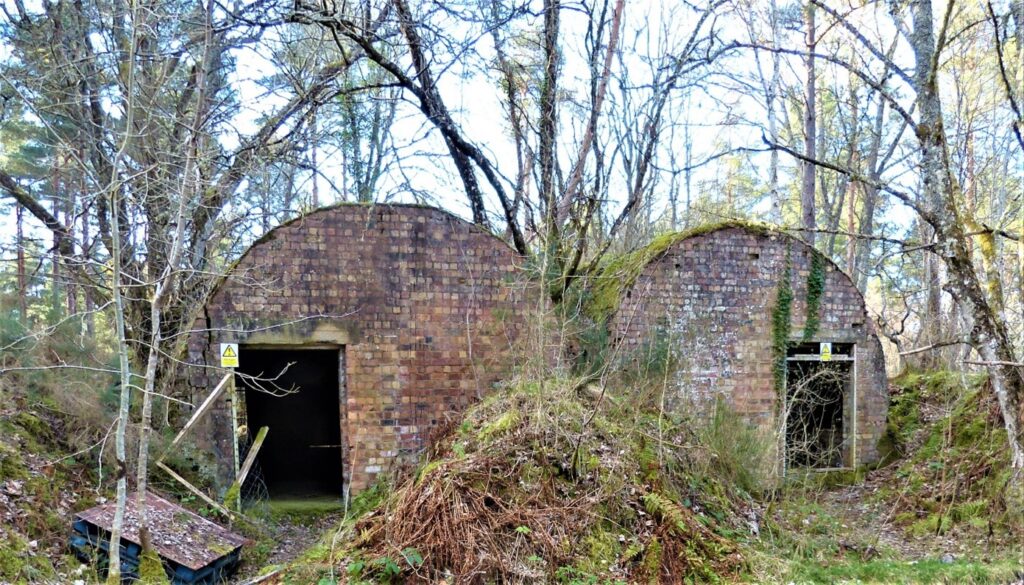 Wartime remains (location 27)
During WWI a POW camp was situated at Altnacardich, housing German POWs who worked in the forestry. Almost nothing remains of this camp, but hut bases and a few buildings survive of the WWII POW camp at Bunchrew. In WWII many of the large houses were taken over by the military: Achnagairn as a convalescent home, Lentran and Bunchrew by the RAF, and Balblair House for the Canadian Forestry Corps. An Equipment Ammunition Magazine was built in Dunballoch wood where derelict buildings survive, supported by a camp closer to the river.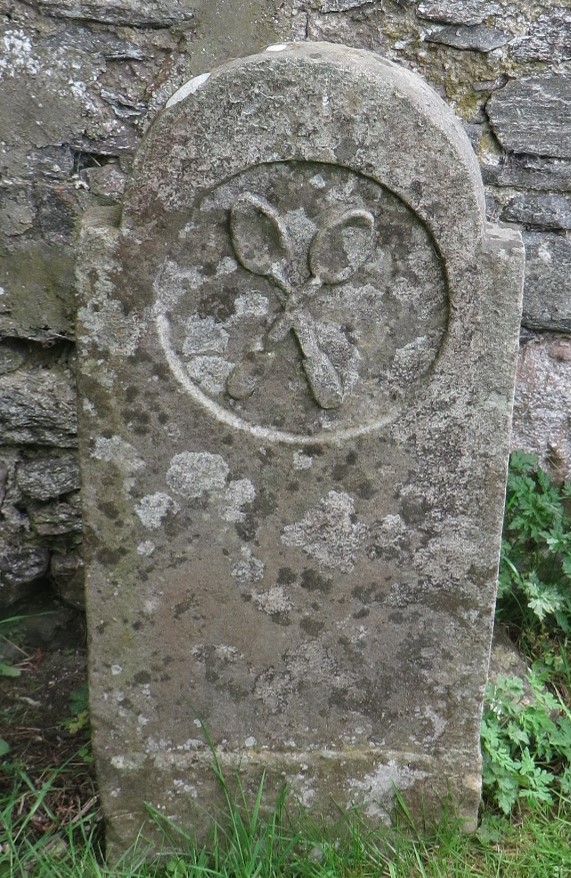 Kirkton gravestone (location 28)
This rare (and nameless) gravestone is in the burial ground at Kirkton, near Englishton. Newborn Highlanders were once given a horn spoon. Farmers would present the craftsman Horner with a horn which was then split lengthwise to make two: one spoon for the farmer, the other sold as a fee. These crossed spoons may therefore carry a sense of 'share and all shall thrive'. The stone is likely to mark the grave of a travelling craftsman Horner.
We are grateful to members of the Indigenous Highland Travellers Facebook Group for their help.