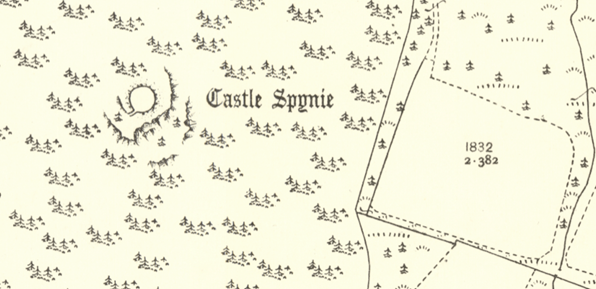 Castle Spynie (location 5)
Castle Spynie, situated just to the west of the parish, is a small Iron Age hillfort or possibly a broch (drystone buildings with thick walls incorporating rooms or passages in the walls). Some walls remains, and traces of defensive ditches. Now in forestry, it would originally have commanded views over a wide area. A small hillfort, now much robbed for building material, is also in Kirkhill Parish at Cnoc a'Chinn to the west of Kirkton.
Image: 2nd edition OS map published 1904, Reproduced with the permission of the National Library of Scotland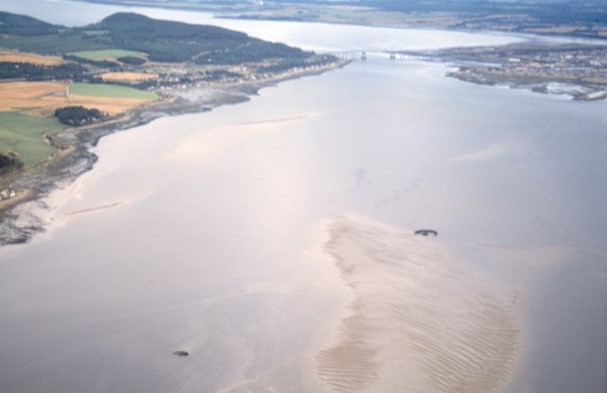 Crannogs (location 6)
Crannogs are artificial islands, usually constructed in the Iron Age and then sometimes reused. Four are located in the Beauly Firth. Carn Dhu was built in the early Iron Age while Phopachy dates to the late Iron Age. No dates were obtained at Coulmore. The crannog at Redcastle across the firth had more extensive investigation. It might have been used for industrial activity, such as tanning, in the Iron Age. Elsewhere in the Highlands crannogs were mainly domestic dwellings, though we don't know why people chose to live on the water.
Image: Carn Dhu and Coulmore crannogs ©NOSAS: JS Bone Collection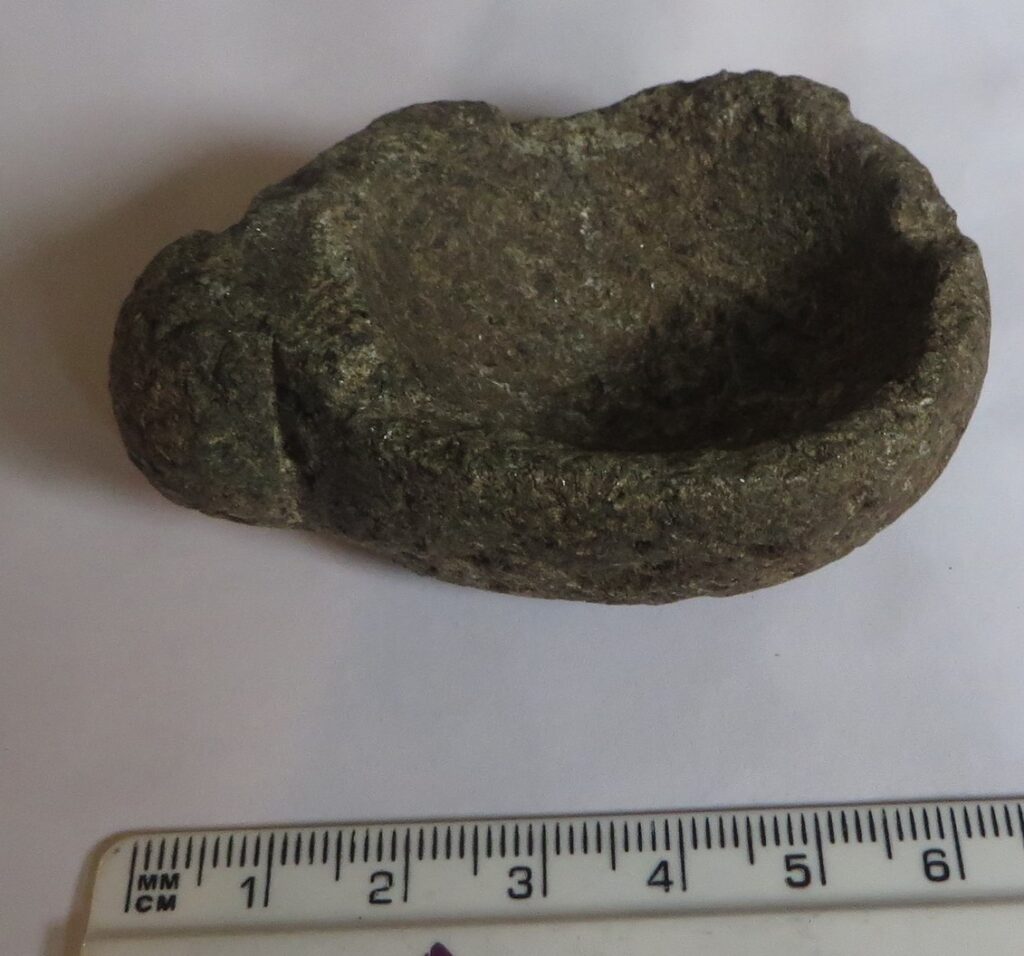 Stone cup or lamp from Kirkhill (location 7)
This small cup or lamp with a simple decorated handle was carved from steatite (soapstone). It was found somewhere in the Kirkhill area. Objects like these were used as containers or as lamps, filled with oil with a floating wick. Steatite was ideal, as it is easy to carve and retains heat. However, no local outcrops are known, suggesting trade from other areas. Such objects tend to date to the Iron Age, often found on hillforts or brochs. This cup is in Inverness Museum. Another vessel from Moniack is in the National Museum of Scotland.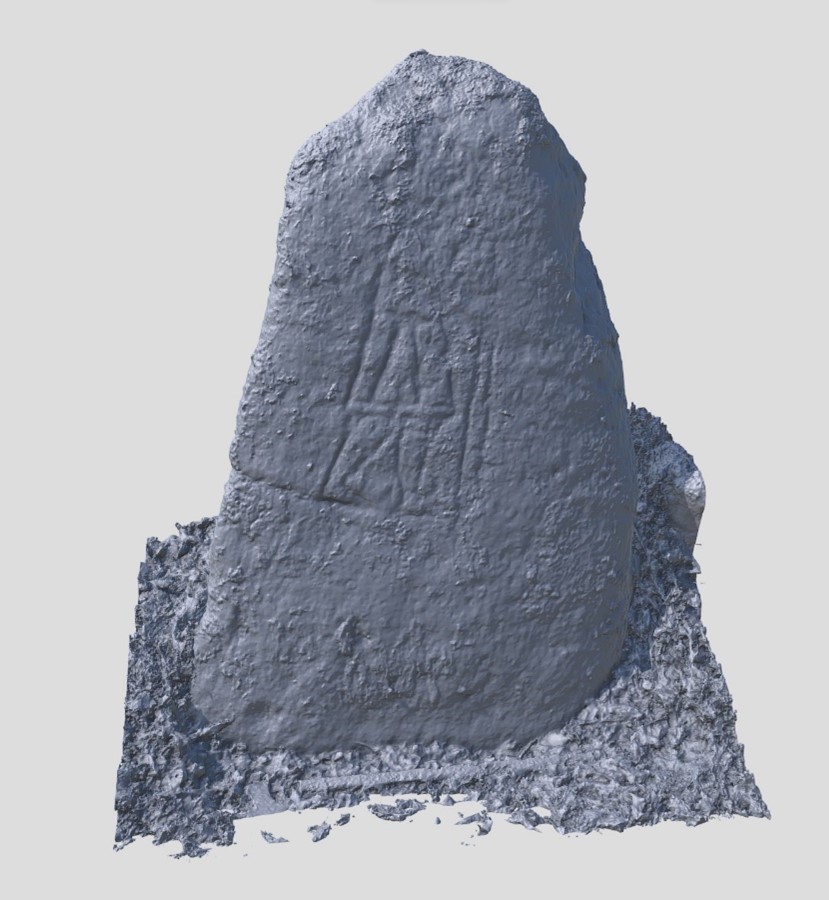 Balblair Pictish stone (location 8)
An unusual Pictish stone currently at Moniack Castle was originally found at Balblair, Kilmorack. It is possibly a reused Neolithic cupmarked stone, which has a much worn figure of a man with a stick or sword in his hand. The way the figure is carved suggests it is Pictish in date, but only a few Pictish symbol stones depict people. It is important in providing evidence of Pictish settlement in the area.
Digital image by Alan Thompson at https://skfb.ly/ouHVB licenced under CC BY 4.0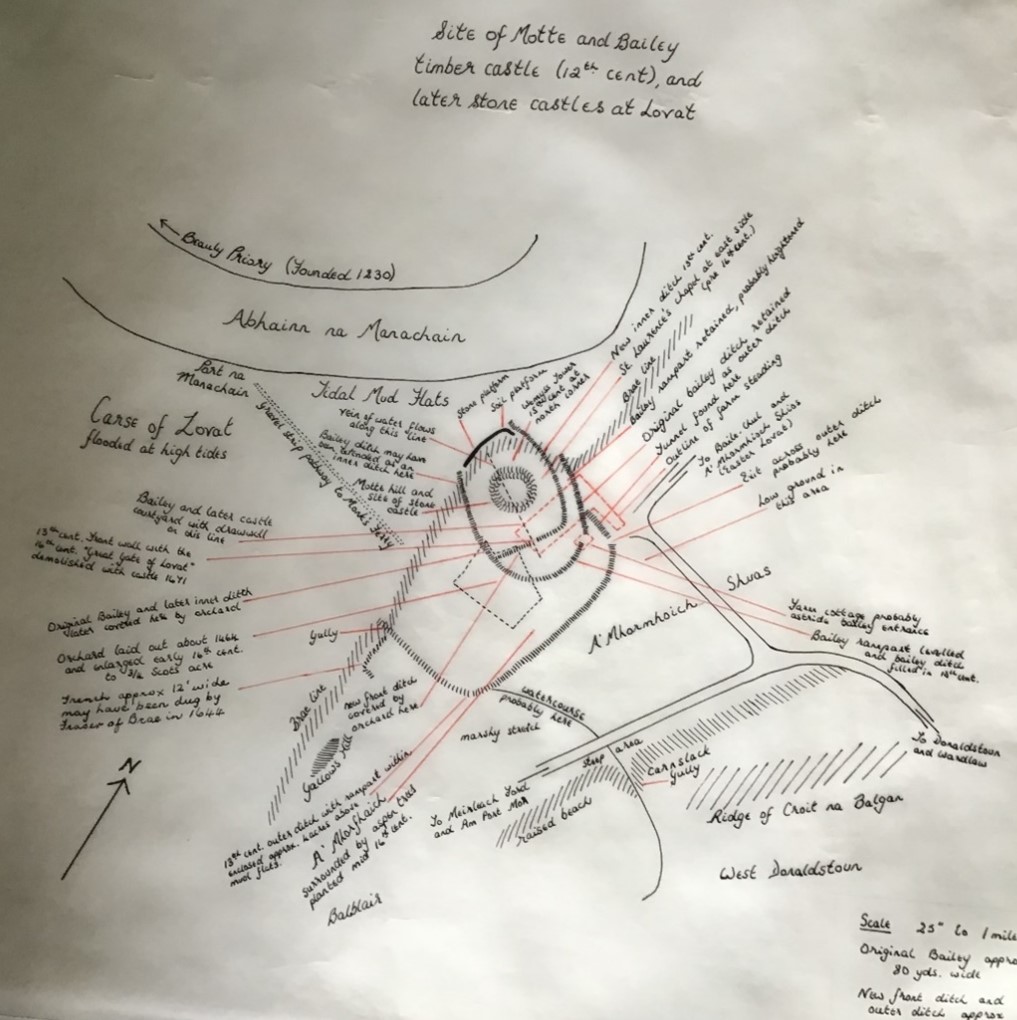 Lovat Castle (location 9)
A medieval castle was built at Wester Lovat. Virtually nothing survives, but local farmer Donald Coghill pulled together various bits of information, here drawn by his daughter. The castle was first mentioned in the 12th century when it was granted to the Bissets. When a Bisset heiress married Simon Fraser in the 13th century it came into Fraser hands. Lovat Castle was used until they built a new house at Beauly in 1671, with stone and wood from this site. Remains of a small castle also survive at Tom a'Chaisteal south of Kirkton.
Medieval coin from South Clunes (location 10)
This English silver penny of Henry III was found at South Clunes. It was minted by John Martin in Norfolk in 1249. During the medieval period many English coins circulated in Scotland, alongside Scottish currency. This is one of several discovered in the parish.
Image: Front and back of coin ©Jock Ramsay