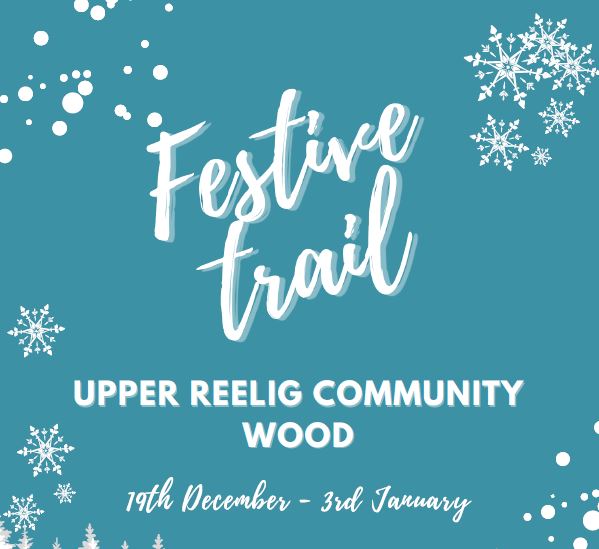 The elves have been busy, and invite you to explore a family orientated, self led, Festive Trail around Upper Reelig Community Wood.
There are lots of exciting things to do: find the snowmen and reindeers living in the wood; help the elves make a Christmas tree; create a twig star to take home; build a snowman; find plants and leaves for a festive wreath; find the North Pole; play a festive tune on the xylophone; play Pooh Sticks with fir cones; learn how to balance on the rooftops like Santa and the elves; collect cones to take home to decorate your tree; and, find the wooden winter robins hiding along the way.
Opening times
The trail will be open from first light on Saturday 19th December 2020 until dusk on Sunday 3 January 2021. So just pop along when you fancy some fresh air and fun!
'Elf and Safety
First of all, please park considerately at the small car park. Dress for the weather because it will be muddy in places and probably cold. So why not bring a wee picnic or hot chocolate to keep warm. The trail will be muddy in places but should be suitable for bumpy buggies.
Most importantly, please maintain physical distancing and use the sanitiser. Before doing any crafts or constructions, knock on the elves door at the hut to find the gel they have left for you.
Trail Leaflet
The Festive Trail leaflet gives directions to parking and leads you through the wood and activities. Download the PDF to your phone or print out to take with you.
Support us
Thank you for visiting Upper Reelig Community Wood. We hope you enjoyed the festive trail.
The wood is managed by volunteers from Aird Community Trust. You can donate to help us to continue to care for the wood by clicking the donate button below.
If you would like to volunteer in the wood please contact ACT@kirkhillandbunchrew.org.uk.
Finally, if you haven't already joined, please consider membership of Aird Community Trust. It's free and helps support various activities within our community.