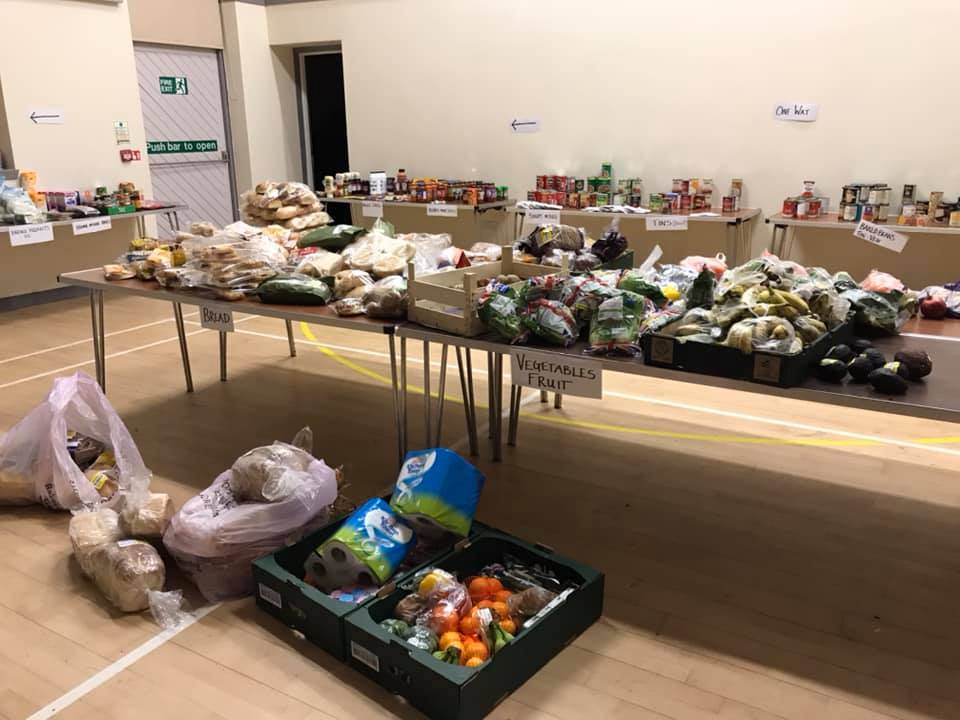 Here's where to get support, offer help and find out more about what's happening in the Kirkhill and Bunchrew community during the COVID-19 outbreak. We'll update the page as things develop. If you know of a service to add then please let us know through the comments below. During these extraordinary times we're so lucky to have a community that is pulling together. 
Updated 17 June 2020.
Kirkhill Community Centre Newsletter April 2020
This newsletter from Kirkhill Community Centre gives information on local community support and the community cupboard. It also gives contact details of local volunteers. It will be delivered to all households in the area.
Community support
Local community support has been developed and communicated through the Community Kindness Kirkhill, Kiltarlity, Beauly and Muir of Ord facebook group. Go here if you are looking for support or can offer some help. It also includes updates on local businesses and services and tips for keeping occupied!
The group are also coordinating the distribution of community postcards that offer help to people that are self-isolating. Help can include picking up shopping, posting mail, getting hold of urgent supplies and offering a friendly phone call. They do regular prescription pickups from Beauly and will deliver locally.
Kirkhill Community Cupboard
Kirkhill Community Centre has developed a Community Cupboard to provide supplies to those that need them. The idea is not only to help those who can't get out and about, but to help prevent people from having to travel to Beauly by bus to pick up essentials. It is stocked with donations of non-perishables, bread, milk, eggs, vegetables and fruit and frozen ready meals. 
Hand sanitiser refill station
A hand sanitiser refill station is available in Kirkhill Community Centre thanks to Dr Ross Jaffrey and the Safe Hands, Saves Lives project. It is open at the same time as the Community Cupboard. It is available to anyone, just take along your bottle to fill.
Community businesses
Our local community services and businesses have been brilliant at adapting to the situation. These are some of the businesses that are available locally:
The Post Office at Kirkhill Community Centre is open on Tuesdays from 10:00 to 12:30 and Fridays from 10:00 to 13:00
Spar Kinmylies offer free delivery to Kirkhill, Bunchrew, Inchmore, Lentran, just call the shop on 01463 243608 to place an order. Products include A&I Butchers, Murdoch Brothers Butcher, Ashers Baker, Cromarty Baker and Highland Eggs
John Munro Butcher Beauly – delivers locally
Hastie and Dyce Butchers Inverness deliver on Saturday only to Kirkhill.
Corner on the Square Beauly – Groceries, deli and fruit and veg available from click and collect service or delivery to Kirkhill/Lentran on Wednesday and Saturday.
The Storehouse Foulis – deliveries from the online shop including veg, fruit, meat, dairy and deli items.
Redshank Catering Fish 'n' Collect – Fish and ready meals. Deliveries to Beauly and Kirkhill 11:00 to 14:00 on Thursdays.
Highland Hog Roasts – Chilled meals can be delivered any day, and hot food to the Beauly area on Sundays from 16:00 to 20:00.
Pro Fish – Fish van in Kirkhill at the old Doctors Surgery from 16:30 to 17:00 on Fridays 
Fortrose Fish Company – Fish van arrives Lentran around 08:45 and Kirkhill (Macmillan's Yard) 09:30 on Wednesdays
Bell's Seafood – Fish van arrives Mansfield Park, Kirkhill around 15:00 and Beauly Square 14:00 to 14:30 on Fridays 
Monsterbox 

– Fresh fruit, veg and meat boxes delivered to the Kirkhill area and couple of times a week

Highland Doorstep Deli –  Delivers fresh meat products, fruit, vegetables, seafood, cheese, milk, eggs and other essential fine food and deli products 
Graham's Dairy – Doorstep milk and dairy deliveries to Kirkhill on Wednesdays and Saturdays.
The Fish and Chip Van – at Kirkhill Community Centre from 5-8pm on Wednesdays
Other support services
The Red Cross in Inverness have pre-packed boxes of staple foodstuffs for anyone in need. They are open Mon-Fri from 9-5 and can be accessed on 01463 796624. They will ask for a name and number and will deliver. They are also able to offer support in other issues if that is appropriate.

A new Scottish national helpline has been launched to provide essential assistance to those who don't have a network of support but who are at high risk of contracting COVID-19. The number is 0800 111 4000 (9am-5pm). It offers help to those who do not have family or existing community support and cannot get online and who are over 70, disabled, require the support of mental health services, are pregnant or receive a flu jab for health reasons. This service is in addition to localised support already available for people who have received letters advising them to shield themselves.

Highland Council has a free helpline which connects callers to relevant Council specialist teams to give advice on benefits and personal support, education and social care. There is also advice for businesses who may need help with financial support. Helpline staff will also be signposting callers to other organisations that can provide help and assistance as well as gathering offers from individuals or community groups wishing to volunteer.  The single line number is 0300 303 1362,  Monday to Friday from 8am to 6pm. All calls are free. 

The Scottish Government provides shielding support for vulnerable people and will arrange for food and medicine deliveries. Through the SMS Shielding Service or your local authority helpline, you can order free weekly deliveries of basic food and essential supplies.

Chest Heart & Stroke Scotland offer advice and services to people that are at high risk of problems from coronavirus.

Drew Hendry MP has created a COVID-19 hub with information and advice for individuals, businesses, self-employed and families.

Helplines include:

Childline: 0800 1111
Samaritans: 116 123
Domestic Violence Hotline: 0808 2000 247
Mind: 0300 123 3393
Age UK: 0800 169 6565
Breathing space (Scotland) 0800838587
Government advice
Use this page for the up to date guidance on the virus for people in Scotland. Scottish Government Coronavirus (COVID-19): Information for individuals and businesses in Scotland
Keeping active
At this time it's important to keep active and take outdoor exercise locally when we can. We are fortunate to live in area with loads of opportunities to walk, cycle and ride. Reelig Wood is on our doorstep with tall trees walks and a balance trail and xylophone in the Upper Reelig Community Wood. There is also a map of local routes on Paths Around the Aird. 
When out and about please follow the current advice to:
Stay in your local area
Don't take unnecessary risks
Practice social distancing